Forum Henry Kissinger and his times
Share: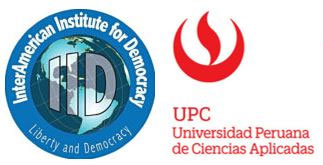 INTERAMERICAN INSTITUTE FOR DEMOCRACY

UNIVERSIDAD PERUANA DE CIENCIAS APLICADAS


Invites you to the

FORUM:


"HENRY KISSINGER AND AND HIS TIMES"

Live broadcast:

WELCOMING REMARKS:
Tomás Regalado


PRESENTERS:

Jorge Castañeda
Former Foreign Minister of Mexico


Luigi Einaudi
Former Deputy Secretary General of the OAS


José María Figueres Olsen
Former President of Costa Rica


CLOSING REMARKS:
Mariano Caucino

MODERATOR:
Beatrice Rangel


Date: Wednesday May 24th, 2023
Time: 5PM (EST).
IID Headquarters: 2100 Coral Way. Ste:500. 33145. Miami.FL.